---
Sharks And Evander Kane Sued By Centennial Bank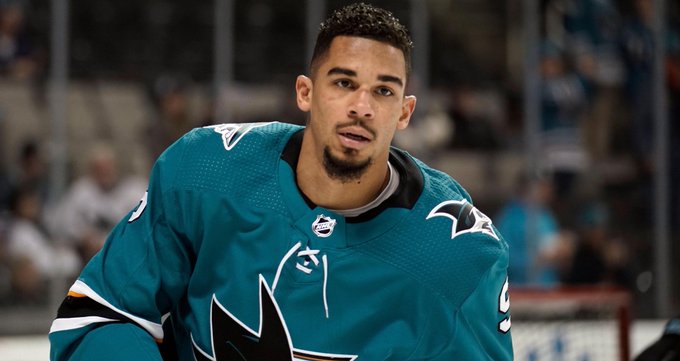 Another big, sad athlete bankruptcy filing. Three years after signing a $49 mil deal, Evander Kane files for chapter 7, listing $26.8 mil of debt
A 21-year-old Buffalo woman has sued Sabres forward Evander Kane, saying he seriously injured her in the hotel room where he lives.Documents filed July 1 in Erie County State Supreme Court on behalf of Rachel Kuechle say
Kane met her in a bar, invited her to what he said was a party and then attacked her, causing cuts and bleeding that required multiple surgeries.
Without providing details of how she was injured, her lawyers said Kuechle suffered "serious emotional trauma" and "serious, permanent and painful personal injuries."
Kane's actions are described as "unwanted, unconsented to, violent and offensive in nature physical battery," according to court papers.
No monetary damages were specified in the lawsuit. Kane had been cleared in March of any criminal charges after authorities investigated the Dec. 27 encounter initially described as a possible sexual assault.
A 21-year-old Buffalo woman has sued Sabres forward Evander Kane, saying he seriously injured her in the hotel room where he lives.
Kane is accused of grabbing three women inside a Buffalo nightclub
Kuechle met Kane at the Encore Restaurant and Bar on the evening of Dec. 26 and Kane bought her drinks before inviting her back to his room on what her lawyers describe as a "false pretext" of a party.
The pair were taken to the Buffalo Marriott Harborcenter by Kane's driver, court papers say. Once in the room, Kane "engaged in extreme and outrageous conduct" toward Kuechle, the suit said. Kane pleaded not guilty Monday to non-criminal harassment, disorderly conduct and trespass stemming from an unrelated incident at a bar on June 24. In that case,
Kane is accused of grabbing three women inside Bottoms Up, a Buffalo nightclub.