Populism in Europe is dead, you say? It's not even sick! It's gone mainstream – despite what the liberals would have you believe
14 Oct, 2020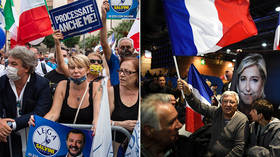 While immigration may not be the primary issue gripping the continent at present, thanks to Covid-19,
populist attitudes are now embedded in the national conversation, though those of a liberal persuasion may be loath to admit it.
The liberals are rubbing their hands with glee. They told us it wouldn't last, that it would never take a hold and that, in the end, everyone would see things their way. But
the idea that right-wing populism is dead is both misguided and premature. Because the bugbear of Europe's political elite is actually stronger than ever.
Sure, the faces we associate with populism, such as Italy's Matteo Salvini and the UK's Nigel Farage, may not be plastered all over our newspapers or television screens like they were just a year or two ago, but the reason for that is
the ideas they represented and trumpeted across the European political stage have taken root.
The issue at the heart of right-wing populism has been immigration
and, while the pandemic has hijacked the national conversation and political debate in most quarters, the policies, the language and the rhetoric surrounding that very much on-the-menu issue right now are pure populism. Twelve months ago, no British Conservative politician who valued their job, however radical, would have dreamt of airing ideas about processing immigrants on disused ferries in the middle of the English Channel, or sending refugees to windswept outposts in the Atlantic ... and
calling in the Royal Navy to stop the flow of asylum seekers onto Britain's southern beaches, would not have looked out-of-place at a Farage-led UKIP conference five years ago.
Meanwhile, in France, no one ever talks of Marine Le Pen's Rassemblement National as some right-wing, fly-by-night populist set-up ... Read more ...