Top 5 countries opting to ditch US dollar & the reasons behind their move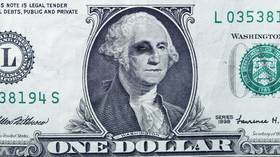 China
The ongoing trade conflict between the United States and China, as well as sanctions against Beijing's biggest trading partners have forced China to take steps towards relieving the dollar dependence of the world's second-largest economy. Beijing has recently made several steps towards strengthening the yuan, including accumulating gold reserves ...

India
Earlier this year, Delhi switched to ruble payments on supplies of Russian S-400 air-defense systems as a result of US economic penalties introduced against Moscow
. The country also had to switch to the rupee in purchases of Iranian crude after Washington reinstituted sanctions against Tehran. In December, India and the United Arab Emirates sealed a currency-swap agreement to boost trade and investment without the involvement of a third currency.
Turkey
Earlier this year, Turkish President
Erdogan announced plans to end the US dollar monopoly via a new policy that is aimed at non-dollar trading
with the country's international partners.Relations between Ankara and Washington have been deteriorating since the failed military coup in the country to oust President Erdogan in 2016.
The NATO member's decision to buy Russian S-400 missile systems added fuel to the fire. Moreover, Turkey is trying to ditch the dollar in an attempt to support its national currency.
Iran
A triumphant return of Iran to the global trading arena did not last long.
The oil-rich nation has once again become a target for severe sanctions resumed by Washington.
Sanctions have forced Tehran to look for alternatives to the US dollar as payment for its oil exports. Iran clinched a deal for oil settlements with India using the Indian rupee.
The partners are also planning to use the Iraqi dinar for mutual transactions to reduce reliance on the US dollar amid banking problems connected to US sanctions.
Russia
President Vladimir Putin said the US is
"making a colossal strategic mistake"
by
"undermining confidence in the dollar."
The country had to dump its holdings of US Treasuries in favor of more secure assets, such as the ruble, the euro, and precious metals.
Russia has recently proposed using the euro instead of the US dollar in trade with the European Union.
Russia has all but eliminated its holdings of US Treasuries. Moscow has used the money to boost the nation's foreign reserves and to build up its gold stockpile to stabilize the ruble.