---
Warren Buffett's Berkshire Hathaway grows cash pile to $128bn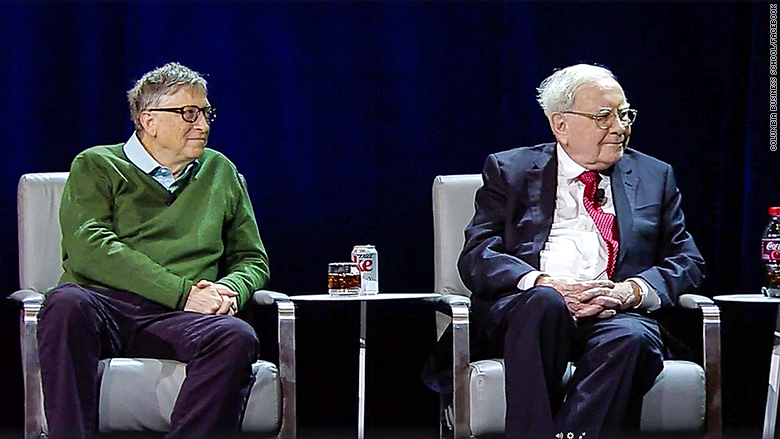 Two of the wealthiest White capitalists - Bill Gates and Warren Buffett ponder how to make more money. Is capitalism just as much our enemy as socialism?
Sage of Omaha has struggled to find large acquisitions to boost returns Warren Buffett, Chairman and CEO of Berkshire Hathaway, speaks to reporters during a tour of the CHI Health convention center where various Berkshire Hathaway companies display their products, before presiding over the annual shareholders meeting in Omaha, Neb.
An estimated 40,000 people are expected in town for the event
, where Buffett and his Vice Chairman Charlie Munger will preside over the meeting and spend hours answering questions.
Berkshire Hathaway grew its cash pile to a record $128bn in the third quarter ...
Mr Buffett has gone nearly four years since completing a major acquisition,
forcing him and Charlie Munger, his longtime business partner and vice-chairman of Berkshire,
to look elsewhere to invest their cash hoard.
"Mr Buffett had not found an attractive M&A target and could
be building the "monstrous cash hoard in the event Buffett
or Charlie Munger — the masterminds of Berkshire — go into the hospital".
Mr Buffett is 89 years old and Mr Munger is 95 years old.
Mr Smead said Mr Buffett could also be waiting to deploy Berkshire's cash in the event the stock market faced a bear market akin to the 1987 crash.
As the cash pile grows, so too do profits from its vast business empire....
In addition to Berkshire's portfolio of businesses,
the group has expansive stock holdings dominated by shares in financial companies. American Express and Wells Fargo are among the group's biggest holdings, while Apple stock, which Berkshire first bought in 2017, is now the largest.
The value of Berkshire's shares in the iPhone maker grew $7bn to $57bn in the third quarter as Apple stock rose.