---
Rioters in Washington, D.C. defaced a monument honoring the victims of communism
June 6th, 2020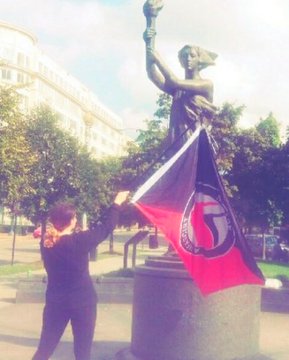 Rioters have vandalized and damaged several historic monuments in Washington, D.C. including one statue erected to honor the victims of communism, which was spray painted with several protest messages, including one that said "BLM" – the initials of the Black Lives Matter movement.
The statue was erected by the Victims of Communism Memorial Foundation. It is located in Washington, D.C... According to the VOCM, the statue was erected to remember "that the history of communist tyranny will be taught to future generations."...
"Given that Antifa groups openly espouse Marxist ideology and have vandalized our memorial before, it's not surprising that the group would deface it and dishonor the memory of more than 100 million dead again,"
said Marion Smith, executive director of the Victims of Communism Memorial Foundation, in a statement made to
The Daily Caller.
"We call on the D.C. Metropolitan Police Department to protect public spaces and memorials like ours from further vandalism and destruction," he added.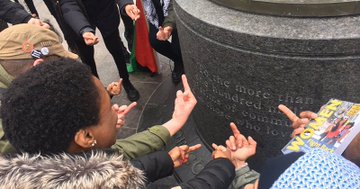 President Donald Trump has blamed a lot of the violence and property damage in Washington, D.C. on Antifa,
a loosely organized group of people who identify with the far left. Attorney General William Barr even announced over the weekend that they designate Antifa as a terrorist organization and will prosecute members who have "participated in acts of domestic terrorism."
Photos provided by the National Parks Service show that the rioters in Washington, D.C. damaged or defaced several other historic monuments in the capital, including both the Lincoln Memorial and the World War II Memorial.
Additionally, St. John's Episcopal Church, famous for being the "church of the presidents," sustained damage in a minor fire on Sunday night. St. John's Church is located across the street from the White House.