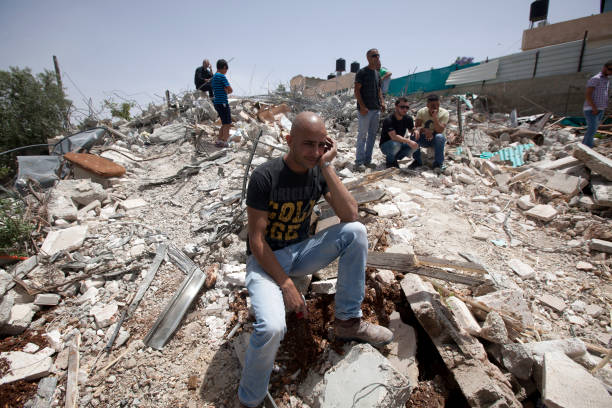 Israeli forces expelled a Palestinian family from their home in the Muslim Quarter of occupied East Jerusalem's Old City on Sunday and handed it to Jewish settlers.

Settlers, soldiers seize Jerusalem home from Palestinian family
18 February 2019
Hatem Abu Asab was able to postpone his family's expulsion until 28 February through his lawyers, but Israeli police paid no heed. On Sunday, with no prior warning, Israeli forces surrounded the house and blocked the road leading to it, eyewitnesses
told
Wattan TV.
They then stormed the house to forcibly evacuate it and prevented family members from collecting their belongings.
"They destroyed me. They destroyed my life. They took everything I own here.
My entire life is here," Rania Abu Asab said in a [ame="https://twitter.com/qudsn/status/1097217239382671360"]video[/ame]. They did not give us time to organize our things.
They came in barbarically, attacked my husband, attacked my children and beat my aunt," she added.
This video shows Israeli forces arresting Hatem Abu Asab: Hatem Abu Asab's son was also arrested. Local media circulated pictures of the arrest as well as Israeli settlers taking over the Abu Asab house:
Settlers raised the Israeli flag on the roof of the house after seizing.
The Abu Asab family lived in the house for the past 67 years.
They were forcibly displaced from their home in the Baqa neighborhood in western Jerusalem after the notorious massacre by Zionist forces in the village of
Deir Yassin
on 9 April 1948 and moved near the Damascus Gate in Jerusalem's Old City.
In October last year, Israel's high court ruled in favor of the settlers.
The court's ruling is made possible by Israel's
1950 Absentee Property Law
, which allows Israel to seize land and property owned by Palestinian refugees who fled or were expelled from their homes during and after the Nakba.
The Abu Asab family paid rent consistently to the guardian of the absentee property, and was surprised by the 2014 campaign for their eviction.
Under discriminatory Israeli law,
the Abu Asab family cannot return to their original home in Baqa or even demand compensation.
Read more ...
Settlers, soldiers seize Jerusalem home from Palestinian family - Jew World Order

Settlers, soldiers seize Jerusalem home from Palestinian family | The Electronic Intifada