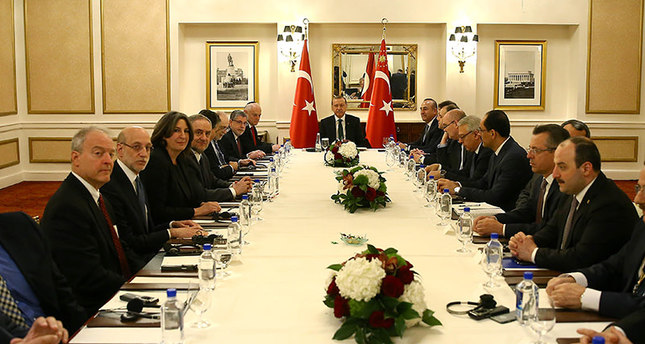 Turkey's President Erdoğan had a closed-door meeting with representatives of US Jewish organizations in New York, 2016. Notice the absence of American flags.

Turkey's President Erdogan has a habit of meeting with local Jews from afar. And despite the apparent heated rhetoric between Erdogan and Israel, it is said that he is a Donmeh Jew. Erdogan is also worth $58 million.
The Donmeh observed traditional Muslim holidays like Ramadan but kept their Jewish faith. The Turkish massacres committed against the Armenians was plotted by a Russian Jew Jabotinsky.
Israel today refuses to even acknowledge an Armenian holocaust. A 543-page document entitled The Jewish Genocide of Armenian Christians, which states that the events of 1915 were planned by the Dönmeh. Hertzel and Jabotinsky, openly supported the genocide of Christian Armenians.
The Sabbatean Role in the Armenian Genocide - The Armenian Weekly
1716:

A group called the "Donmeh" forms in Salonica headed by Baruchya Russo. By the early 1900's, the Donmeh numbers in the hundreds of thousands. They were known as "Crypto Jews" because though outwardly appearing to be Muslims, they were still Jews, and continue in their fervent, (yet secret), Zionist vision.
1891:

Out of the Donmeh a Zionist political group forms called The Committee of Union and Progress, later called The Young Turks. The group is headed by a Freemason Jew by the name of Emmanuel Carraso who organizes the secret Committee of Union and Progress in Geneva with the help of the Rothschilds.
1895-1896:

Sephardic Jews of Salonika together with the Turks massacre Armenian Christians in Istanbul.
1915:
Massacre of Armenian Christians by Donmeh