The European Union is to suspend most sanctions against Zimbabwe once it has held a credible referendum on a new constitution, EU foreign ministers say.

This would make an "important milestone" towards holding democratic elections, their statement said.

More than a 100 key individuals have been covered under an EU travel ban and assets freeze imposed in 2002.

But sanctions would remain against President Robert Mugabe, UK Foreign Secretary William Hague said.

The sanctions were originally imposed a decade ago in response to human rights abuses and political violence.

Mr Mugabe and his rival, Prime Minster Morgan Tsvangirai, have been sharing power since disputed elections marred by violence in 2008.

Fresh elections are expected to be held sometime next year, after the referendum on the new constitution.

Allies of Mr Mugabe have long argued that the sanctions should be unconditionally removed and that they have had a negative impact on Zimbabwe's economy.
EU to suspend Zimbabwe sanctions 'after referendum' - BBC News
Pambazuka - Zimbabwe: EU to suspend Zimbabwe sanctions 'after referendum'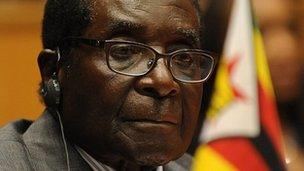 robert Mugabe