---
Pelosi, bishop blast Trump's Bible visit to church after protesters pushed out of park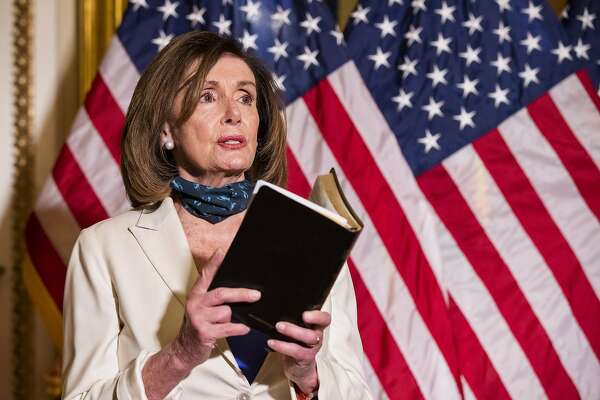 Responding to President Trump's displaying of a Bible in front of a fire-damaged church across from the White House, House Speaker Nancy Pelosi on Tuesday read from her own.
Pelosi labeled as "unfortunate" the events of the day before, when federally commanded law enforcement officers used pepper balls and what authorities described as smoke canisters, but many witnesses called tear gas, to clear protesters from a park in front of the White House so Trump could have an unimpeded walk to nearby St. John's Episcopal Church.
It was among the milder reactions from Democrats and even the Episcopal bishop of the District of Columbia, who said the president had "used our sacred text as a symbol of division."
Trump held up a Bible in an appearance in front of the church, where a basement fire was set during protests over the weekend related to the police killing of George Floyd.
That was not the best use of the book, Pelosi said.
"Last night when I saw the president holding up the Bible, I was thinking of so many things in the Bible that would have been appropriate in terms of the humanity of all people in our country," the San Francisco Democrat said at an event in the Capitol.
Pelosi, who often refers to her Catholic faith, read short passages from the Book
... Trump made his brief visit to the church after saying he would deploy military troops to states to enforce order if he feels leaders there aren't doing everything they can to "dominate" protests that become violent. Read more ...