---
Jesus statue that's 90 years old destroyed at St. Patrick's Cathedral in El Paso: 'I am in shock'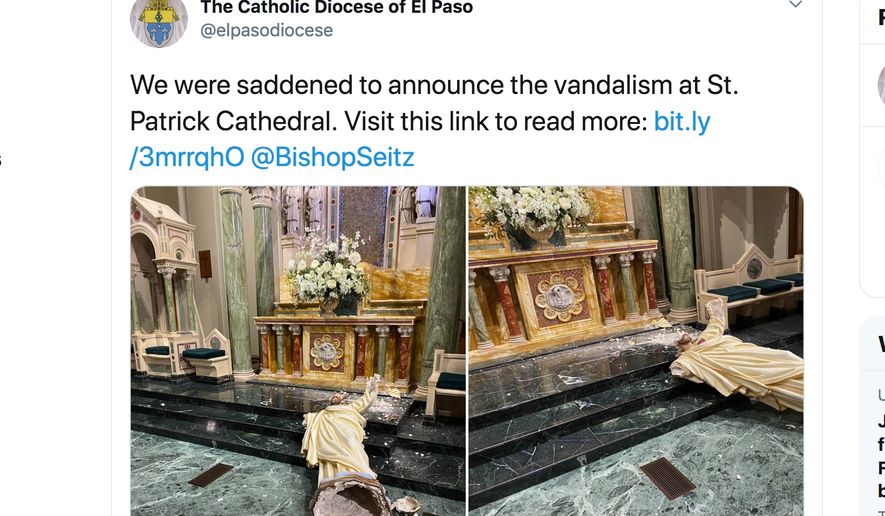 A 90-year-old statue of Jesus was destroyed at St. Patrick's Cathedral in El Paso, Texas, Sept. 15, 2020.
Members of the Catholic Diocese of El Paso say they are in shock after a 90-year-old statue of the Sacred Heart of Jesus was destroyed by a vandal on Tuesday.
Authorities are questioning a suspect who walked behind the main altar at St. Patrick's Cathedral before demolishing the piece around 10 a.m. "I am in shock and we at the Cathedral are heartbroken over such an unexpected situation," Father Trini Fuentes said in a statement posted on the diocese's Instagram page... "But a statue, particularly this statue, concertizes and connects us to persons and ideals that are not visible to our eyes...
At this point we do not know anything about the person who carried out this assault, but he certainly must be a person who is greatly disturbed
...
He will be in my prayers." The vandalism continues a trend by vandals since May of explicitly targeting Christians and their symbology across the nation.
The media watchdog NewsBusters, for instance, covered five such attacks on Christians and their property in July that were denied national coverage by three major networks.
"Not one second was spent on these violent anti-Christian attacks," the organization said of 270 minutes of nightly news coverage by NBC, ABC and CBS following a fire at the San Gabriel Mission in California
, a vehicular attack at the Queen of Peace Catholic Church in Florida...